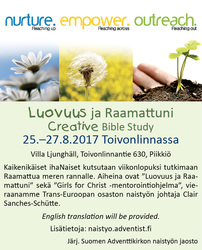 Weekend for Women of all ages
25. - 27.8.2017 at Toivonlinna

Villa Ljunghäll, Toivonlinnantie 630, Piikkiö

How could I get excited about the word of God?
How can Bible Study become important to me again?
How could I reach and support young women and girls in their journey of faith?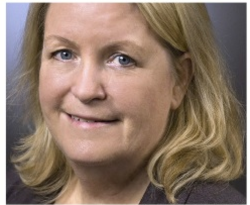 During the weekend we will dig deeper in "Creative Bible Study" and "Girls for Christ -mentoring program". The Women's Ministry Leader for the Trans-European Division, Clair Sanches-Schütte, will be guiding us in our journey.

Program starts on Friday at 18.00 (at 16.30-17.30 supper) and continues until Sunday 13.30 (lunch).

Registration at the latest for materials, accommodation and food services (please inform your food allergies) by 21st of August at 10 o'clock to Helena Mäentaka: helena.maentaka@adventtikirkko.fi or 03-3611111 (Mon-Thu at 9-16, Fri at 9-12).

Participation fee for the weekend with own linen is 80 per person (or 100 euros in a single room) and need to be paid by 21st of August at the latest. Participation fee includes accomodation and meals, program fee is sponsored by the WM Department. Early Bird price for those who have registered and paid the Participation fee by 16th of August is 60 euros (or 80 euros in a single room). If the person is not needing a room for accomodation, the fee is 40 euros for all meals of the weekend.

Prices for meals separately (for participants who are attending only part of the program):
Breakfast 7 euros
Lunch 8 euros
Supper 8 euros
Evening snack 7 euros

Remember to reserve and pay the meals in advance (mark into the Message field of the payment "Ateriamaksu")!

Receiver of the Payment: Suomen Adventtikirkko
Account Number: FI36 5730 1120 0126 24
Message: "Naiset Villassa 2017" and the name of the participant. Please bring the receipt with you.

Take your Bible, notebook and pen, gear for sauna and suitable clothes for the weather with you.
Workshop 1: Creative Bible Study
How can you get excited about the word of God? How can Bible Study become important to you again? These are some of the questions we will be answering in this workshop. We are not going to just talk but try out several ways of Studying the Bible. Finding what best suits you because we are all different and what fits with one does not excite another.
Workshop 2: Girls for Christ – Mentoring Program
In research done by George Barna it was discovered that investing in the lives of our young people on a personal level is one of the best ways of keeping our young people in the church. If someone other than their parents or the pastor invests in them it can make a life changing difference in the lives of our young people. We are looking for women willing to invest time and energy to be that person. We will teach you how to do it and also what you can do. The Girls for Christ club is a wonderful way of connecting with our young girls.


English/Finnish translation will be provided (program in English).

Unfortunately this time we will not have babysitting.

Responsible: Women's Ministry Department of the Seventh-day Adventist Church in Finland